KrakkaRÚV and the SDGs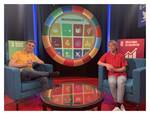 In the series HM30, Aron Gauti Kristinsson and Steinunn Kristín "Dídí" Valtýsdóttir discuss the Sustainable Development Goals. In each episode, they look at one specific goal together with special guests.
KrakkaRÚV, a platform on the Icelandic National Broadcasting Service (RÚV) aimed at children and young people, produced the series in collaboration with the Prime Minister's Office and the Ministry of Foreign Affairs. The script was written by Birkir Blær Ingólfsson, Eva Rún Þorgeirsdóttir, Jóhannes Ólafsson and Sigyn Blöndal. Recording and editing was done by Sturla Skúlason Holm and the series was directed by Sigyn Blöndal.
The series was aired in the spring of 2021 in the programme Húllumhæ and was also made available on this page, together with UN teaching material which the United Nations Association in Iceland had translated into Icelandic.